T universal active sensors
ASET*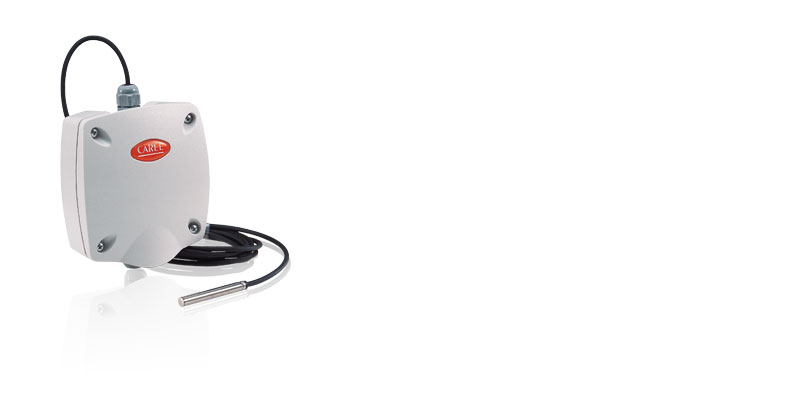 General characteristics

These probes can be used in a multitude of applications; indeed, the sensor fitted with 2 or 4 metre cable allows installation in environments such as steam baths where the need to operate in saturation conditions (100% humidity) would affect the electronics, in this case located outside of the saturated environment.

The plastic container guarantees the electronics IP55 protection and is designed forwall-mounting. The possibility to select the output signal, either voltage or current, allows remote installation at up to 200 m from the controller, without affecting precision.
Documentation
Technical
2D/3D drawings

* Entries are ordered by date

Code
Description
Language
Date *
Release

Code

3D AS

Description

2D-3D drawings

Language

ALL

Date

12/03/2021

Release

R0

Manuals

* Entries are ordered by date

Code
Description
Language
Date *
Release

Code

+030221275

Description

Sonde di temperatura ed umidità/ Temperature and humidity probes

Language

ENG ITA

Date

02/10/2007

Release

2.1

Technical Leaflets

* Entries are ordered by date

Code
Description
Language
Date *
Release

Code

+050001455

Description

drilling template

Language

ENG ITA

Date

04/03/2009

Release

1.0

Code

+050000493

Description

Sonde / Probes sonde di temperatura: esterne (ASET*) e da immersione (ASIT*) / temperature probes: external (ASET*) and immersion (ASIT*)

Language

ENG ITA

Date

29/10/2001

Release

1.3
Images
High resolution images

* Entries are ordered by date

Code
Description
Language
Date *
Release

Code

PH08LAS301-ASET-sensor

Description

CAREL T universal active sensor - Temperature, humidity and Indoor Air Quality sensor - Sensors and protection device

Language

ALL

Date

17/03/2022

Release

R.0